Data Demonstrates Personalized Digital Health Technologies Improve Long-Term Well Being for People Living with Chronic Disease
Advancements in digital technology and an abundance of real-time data are the most powerful tools to combat chronic medical conditions today. Digital health platforms are creating a revolution in healthcare that is driven by the individual patient who has the power to use personalized, actionable real-time data to sustainably improve his or her own health. DarioHealth is a leader moving the healthcare paradigm from centralized, top down directive medicine, to personalized informed, patient-driven self-care. Data recently presented at the American Diabetes Association (ADA) demonstrated that diabetes, one of most costly chronic diseases in the world today, can be better managed when patients are highly engaged with a digital health management system. Using digital health technology, DarioHealth aims to address the root causes of diabetes, thereby potentially impacting the overall health and wellbeing of the patient. DarioHealth combines a patented global digital platform and real-time 100% data capture, with dynamic methods and techniques of user engagement that motivate, support and empower users to self-care. While Dario is developing digital health solutions for the management of a number of chronic conditions, its award-winning diabetes management system, which is quickly gaining in popularity and adoption in the major markets in which it has received regulatory approval, is a great example of how digital solutions in hands of users improves their outcome.
Data Show Long-Term Sustainable Results
On June 25, 2018 Dario reported
1
 new data from more than 17,000 users of its diabetes digital health management platform in three poster presentations at the ADA's 78th Scientific Sessions in Orlando, Florida. 17,156 type 2 diabetes users were analyzed, and long-term sustainable results were found. There was a 19% reduction in the average ratio of high glucose events and an 11% increase in the ratio of normal range glucose readings.  Most significantly, the shift occurred within one month of usage with stability over the following months and throughout the full year. After one year, users showed an even higher improvement rate. Data published also showed that in a subset of 225 type 2 diabetes users, there was a 20% decrease in hyperglycemic events and a 60% reduction of hyperglycemia. This is an impressive reduction, especially for people who may not yet be using insulin. A different subset of 238 high-risk type 2 diabetes users showed continuous reductions in glucose level averages over the baseline. Blood glucose levels of the 225 users reduced over time by 7%, 11% and 14% over periods of 3, 6, and 12 months respectively. 76% of the 238 high-risk population improved their average blood glucose level over a year, with an average decrease of 10%, 16% and 24% in blood glucose averages over periods of 3, 6 and 12 months, respectively. In a rapid response to these findings, DarioHealth launched
2
 a new annual membership program and other product enhancements to further promote long-term, high engagement of its platform, proven to benefit patients, the longer it is used.
User Engagement Creates Positive Feedback Loop
"These data correlate with the qualitative findings from our interactions and observations with our customers. Higher user engagement creates a positive feedback loop that results in better diabetes management," stated Erez Raphael, CEO of DarioHealth. "When users share daily successes with caregivers, friends and family through established social media including Facebook and Instagram and our own DarioHealth social platforms, they receive the cheers and accolades to stay motivated long-term. We are most excited about the sustainable improvements we have witnessed in users engaged with our platform. This indicates to us that digital health solutions like ours are here to stay and have potential across several chronic disease indications by using customized data-driven guidance for precision treatment." Tamar Tapiro, a nurse in charge of the specialists' team at DarioHealth commented, "We regularly receive calls and messages from our users telling us that Dario has changed their lives. We also see very positive feedback on our social platforms, for example on our Facebook fan page with over 60,000 users. Users are telling us they feel empowered to take charge of their health by using actionable, personalized data." Susan Sloane, a CDE and pharmacist in charge of patient care at DarioHealth added, "In coaching sessions, we are finding users are getting to know their own bodies better by measuring how their blood glucose levels react to the four fundamentals of diabetes – exercise, food, stress, and sleep. Powered with information on how these fundamentals impact their diabetes, users can modify their behavior and better manage their condition. Using data and access to specialists, empowers users to make their own choices; indeed, patients are taking back their power and their health." Users are accessing DarioHealth's services 6 to 7 times more than actual visits to a doctor. Awareness and engagement with the Dario digital health platform are directly correlated with health improvement and clinical outcome. DarioHealth uses the most advanced digital engagement methodologies to advance healthcare. The company has the ability to reach users real time, at their right time, with a personal message. The platform's Carbs Counter and Hypo-Alert are its most engaging features. Additional engaging features and add-ons are continuously being developed and more will be released during 2018. In the past year, DarioHealth has seen an amazing increase in loyalty from its subscribers. Since the beginning of 2018 there has been an uptrend in quantity and quality of new user adoption, from activation, to onboarding, to membership. To share some specific numbers, in the industry in general, only 17% of users who download an application continue to use it 30 days later. Users who download DarioHealth's digital diabetes management solution are showing a 5 times higher activity rate from the initial download.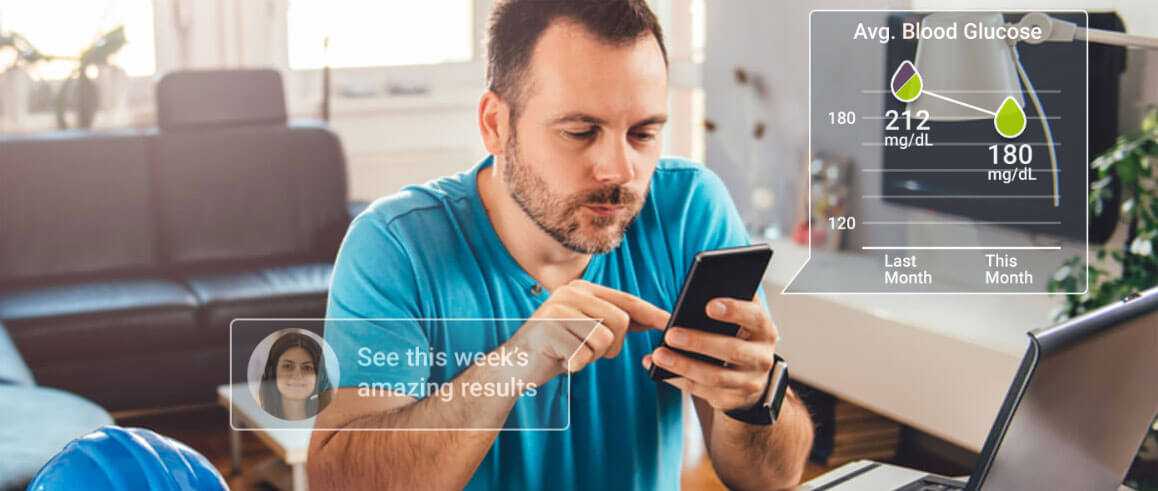 Gains in Health and Gains for Investors
Dario believes that potential cost savings from $80 to $230 per month per patient can result from the use of DarioHealth's digital diabetes health platform.  The ADA 
estimates
 that the average medical expenditure for per patient with diabetes was $16,750 in 2017
3
. The 12% to 42% reduction in additional diabetes health risks that cost more than $100,000 per year created by DarioHealth is huge when looking at the total $237 billion in direct diabetes medical expense in the U.S. and another $90 billion in indirect costs.
4
425 million people live with diabetes today worldwide. DarioHealth's digital diabetes management solution is approved in seven markets including the U.S., addressing a market of nearly 50 million
4
 people. DarioHealth estimates that proving its coaching services over its digital platform to 250,000 users may generate the company annual revenues of approximately $100 million. And this is exactly where DarioHealth is heading. We currently are heading towards the 100,000 user milestone. "By delivering digital technologies that empower people to optimize their health, we are creating a new pathway to wellbeing as well as cost savings in the healthcare economy. A corresponding benefit of increased valuation for our company will hopefully be a desired result for our current and future shareholders," concluded DarioHealth CEO Erez Raphael.